Tap into your consumer's desire for culinary adventure by examining the influence of street food in your operations. Whether through fusion, traditional classics with a twist or authentic dishes, all street food inspired dishes can be taken up a notch with the creative use of sauces and adapted to a variety of menu styles suitable for restaurants, bars and casual dining settings.
A large influence on food trends around the world originates from street food vendors. You would be mistaken if you thought of street food as junk, cheap and greasy food. It is in fact, the opposite. Street food affords diners and foodies gastronomic delights in a practical, cost-effective and flexible way. The demand for street food is evident in the food halls springing up throughout the country that beautifully taps into the social eating concept while catering to people's innate desire for flavourful experiences backed up by an authentic story.
Not just a casual dining trend
Street food has introduced a lot of us to new global flavours and many high street casual dining outlets have responded by bringing out realms of street-inspired easy-to-eat hand-held dishes like pulled pork sandwiches, Korean kimchi burgers, Jiaozi (Chinese dumplings) and gyozas. As time progresses, we find its not just the casual dining sectors but also the education sector, care homes, hospitals and leisure sectors that have participated in this trend.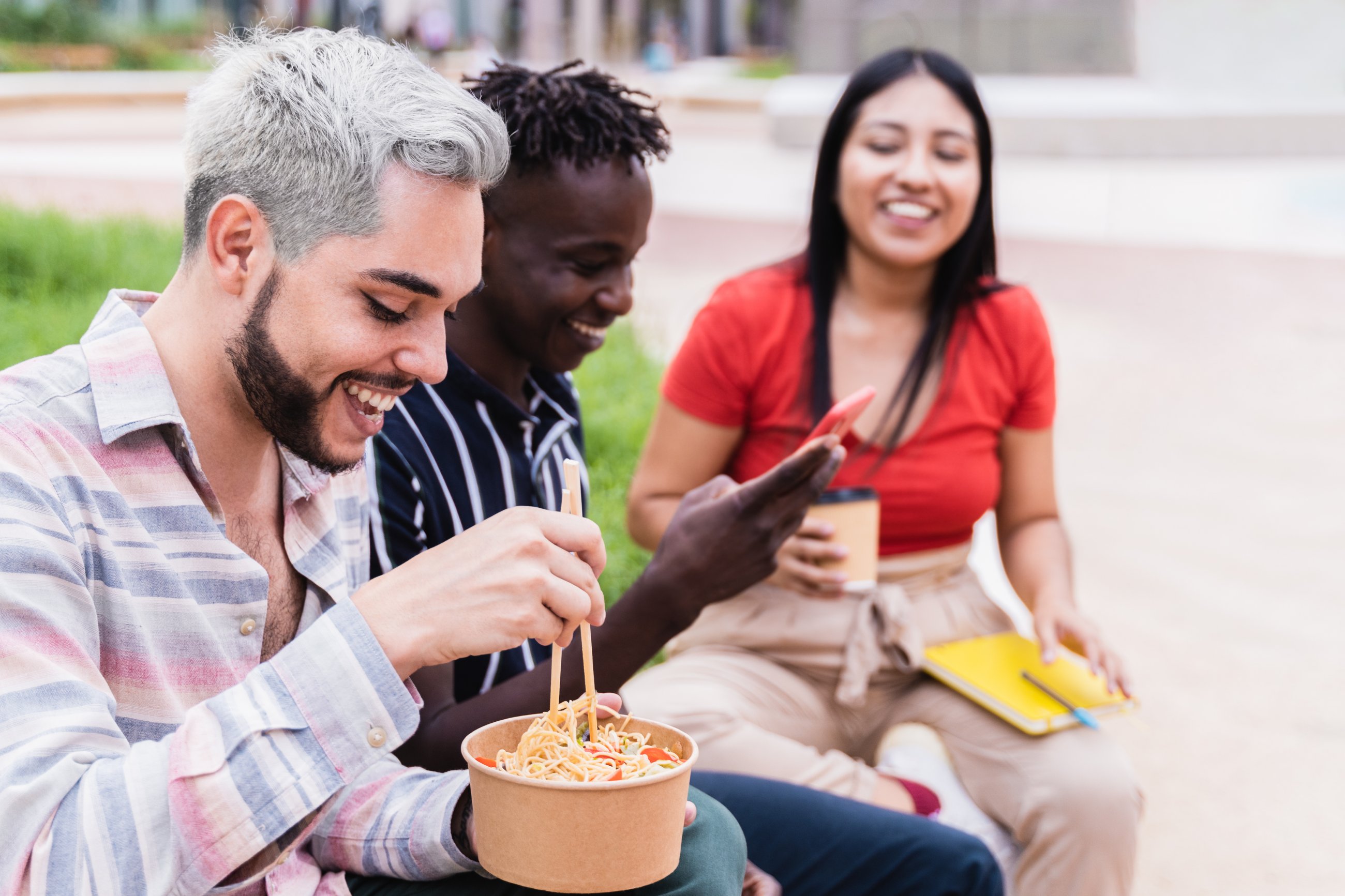 University caterers are under pressure to keep offerings relevant for the food savvy, flavour bold younger population and street food style dishes are assisting with that. Gen Z are known to be self-proclaimed foodies and to keep them interested, engaged and on site, caterers are introducing street food specials to their menus.
Stadiums and arenas too have long raised their standards of F&B offerings. Food is a revenue stream in its own right and many have invested in top of the range kitchen facilities to attract high street operators. Levy, the sports, leisure and hospitality sector of Compass Group UK and Ireland's partnership with KERB's street food society is one such example of fans and guests being able to sample new menus and curated food experiences from around the world throughout the year.
Traditionally, hospitals and care homes focus on food that is recognisable and cater to specific dietary conditions relating to dysphagia, dementia and diabetes and therefore the food served is a far cry from what would be considered street food style. Yet we see lamb tagines, pies and curry's making their way into catering menus, indicating the subtle influence of global street food across sectors and menus. The opportunities with cafés and visitor restaurants within the premises are also immense and a lot of food innovation has come to the fore in these areas too.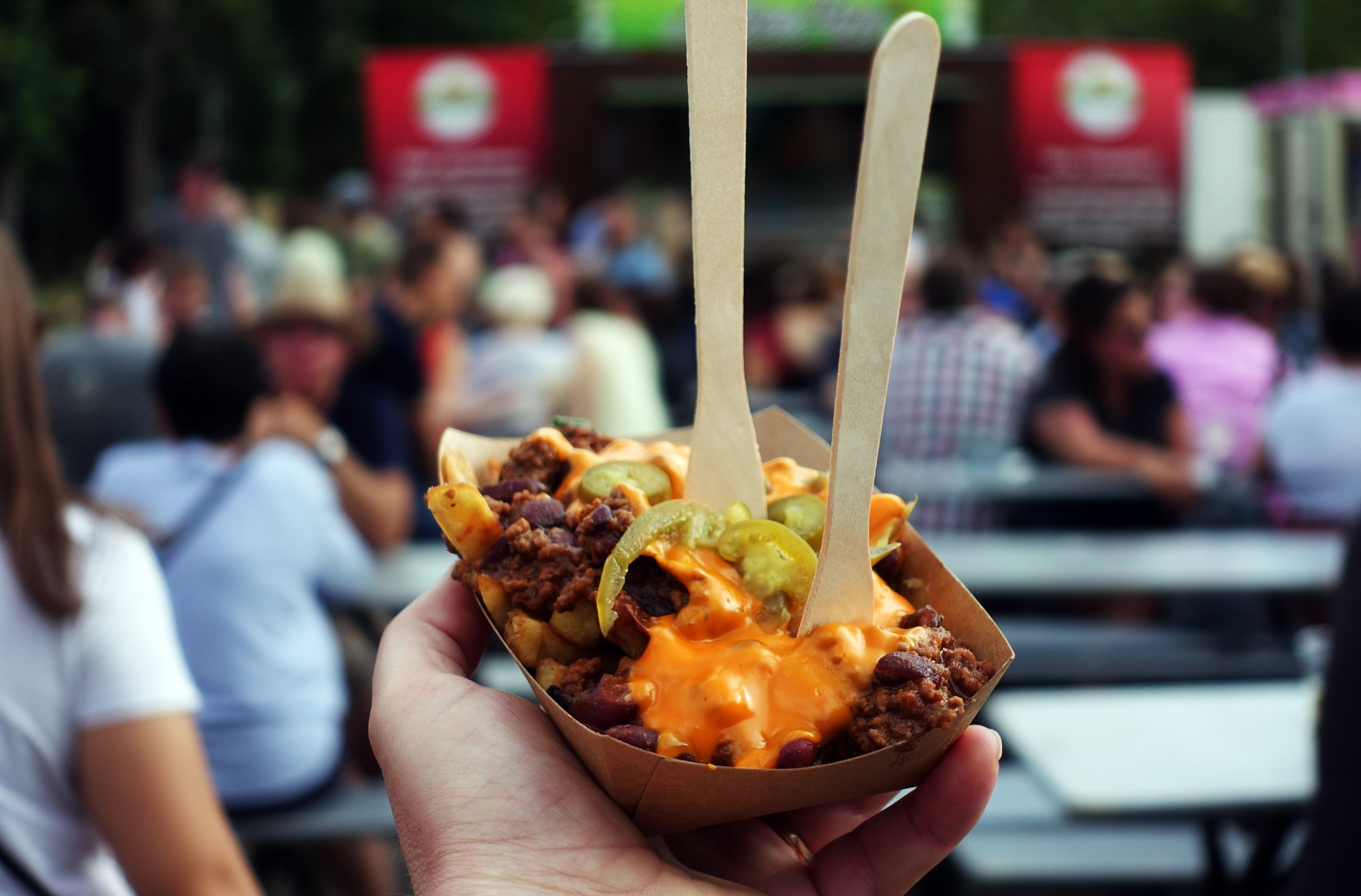 Premiumise with Lee Kum Kee
Experimental consumers appreciate dishes that deliver an element of surprise, such as a unique twist on a known dish or flavour. This willingness and desire to experiment creates opportunities for brands to "premiumize" by offering something different and unique and for that consumers are often willing to pay a premium price.
This is where a brand like Lee Kum Kee comes in. Most operators would know about our sauce making experience of over 130 years making us a brand that is loved, valued and trusted by professional chefs. We are at the forefront of flavour innovation bringing chefs and consumers bold, innovative flavours. What is probably lesser know is that our sauces are not restricted to Chinese dishes alone. It is in the unexpected use of marinating the burger patty in Oyster sauce or creating a new burger sauce by mixing chilli garlic paste with hoisin sauce or using Peking style sauce as a dipping sauce for steak fajitas as examples that make our sauces unique and versatile.
Inspiration
Whether it's authenticity you are striving for or are keen to create fusion or combination flavours for creating a signature dish people love, Lee Kum Kee catering sauces can help you. Try these on-trend recipes, based on popular street food dishes.
Char Siu Chicken legs or Wings
Chef Tips
Lee Kum Kee professional catering sauces can be utilised across your menus, helping you to bring the street food trend to life in your operations. We recently supported Street Food Championships in the UK where a number of casual dining chefs created some unique street food style recipes using our Lee Kum Kee Oyster Sauce & or Lee Kum Kee Vegetarian Stir-fry sauce (With Shiitake mushroom). Here's a lowdown on how Simon Xavier, Executive Food & Drink Development Chef from The Restaurant Group & Mark Wetherill, Development Chef for Quorn Foodservice and also one of the championship supporters used our Lee Kum Kee sauce range.
Chinese inspired fusion style dishes that piqued our interest
For a limited time only Shake Shack launched 3 new items on their menu that uses Chili crisp, the spicy Chinese condiment. The menu includes Chili Crisp Chicken with pickles, shredded lettuce and spring onion mayo; Chili Crisp Chicken Bites with spring onion-mayo sauce; and Chili Crisp Cheese Fries with Shake Shack's cheese sauce.
Indian Street Food Spot Bundobust created four specials inspired by the fiery fusion of Indian and Chinese flavours. The dishes celebrated the historic culinary craze of crossing Chinese cooking styles with classic Indian spices and vegetables. For their 'mein' course, Bundobust added their rendition of the classic Hakka Noodles – soy-sauce coated Indo-Chinese spiced noodles with red and green peppers, cabbage and mushrooms.
If you are looking to shake up your menus or would simply like to chat with a member of our team to find out how we could help with menu innovation or development, then drop us a line on: enquiry.europe@lkk.com